Proprioception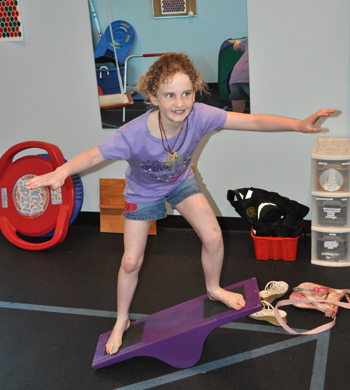 The Second Power Sensation: Proprioception
* Arises from firing in tiny receptors located in muscles, tendons, and ligaments that surround joints.
* Tell the brain where body parts are and what they are doing without our having to look
* Provide the sense of our body's "contents"

* Visual proprioception - perception about his/her body and its relationship to the environment;
* Proprioceptive information from the kinesthetic system signals about the movements and disposition of the body, forming an internal mental model of the body.
Proprioceptive input causes a release of Serotonin, which is the master regulator chemical in the cortex. The effects of Serotonin are important to understand:
*Serotonin and Dopamine levels increase with proprioception which helps with attention and learning
*You can't get too much serotonin
*Serotonin breaks up dopamine to prevent hyperactivity and over processing of information resulting in a neutral state
* Serotonin is the "Master Modulator Chemical"
*It sets the firing level for all other neurotransmitters
*If Serotonin is released suddenly in large amounts, the brain responds with endorphins and we experience "emotional highs."
* The latent effect of this kind of release of serotonin over a twenty-minute period means a 1 ½ to 2 hour experience of "feeling good."
* 9x's rule: For individuals with hypotonia (low muscle tone) it takes 9 times the effort to get enough tone and to a ready state to even begin to corticalize the information being taken in by muscles and joint receptors. Proprioceptive input helps increase muscle tone and "wake up the muscles "
*self-injury causes release of serotonin (this is why children bite, pinch, hit, head bang, etc.)

*When serotonin decreases and norepinephrine increases you will see aggression which often results in the individual receiving proprioceptive and deep touch input (holding down, firm grip, spanking, etc.) which raises serotonin levels back to a calming level. This seeking of release of serotonin causes a terrible cycle of acting out, getting deep touch through punishment, then getting the reward of a release of serotonin to decrease aggression and make them feel better.
Heidi Clopton OTR/L Information taken from research and Ready Approach by Hanshu