Home
> Helping Children Attend, Learn, and Focus
Helping Children Attend, Learn, and Focus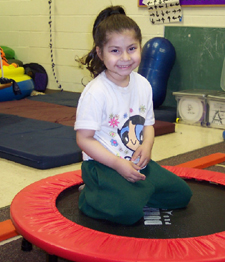 Can't Sit Still?
Children with sensory processing disorders have a tendency toward two major problems regarding sitting: Lack of focus and the inability to sit or stand for a long period of time. Their brain tends to "under register" movement, and without that ability, they can't focus. Their brains are telling their bodies to get up and move to help them listen and attend BETTER! They actually can't help getting up and squirming! Their brains are telling their bodies to do this to help them learn better! Although they look strong in quick actions, the body can't endure long periods of sitting or standing.
Successful strategies include allowing as much movement as possible without disrupting others while sitting. When other organizing strategies are used, along with the new seating option, many children can double or triple previous sitting time periods. These modifications include allowing small movement opportunities with the hands, using fidgets, or with the mouth, using gum or "chewys." Move and sit seat wedges or ball chairs are a life saver for many teachers!
The second major strategy is to provide as much support as possible while sitting so the body feels secure. This includes: feet flat on the floor or footrest, good back support (no bucket-shaped plastic chairs), and hips and knees at 90-degree angles. Most classrooms have terrible seating arrangements and poor heights of student to tables! Ask your educational based OT to look at positioning if your student is a squirmer!
Active classrooms are becoming more acceptable and are the classroom of the future! Letting children stand using standing desks, use bike pedals under their desk, use inflated seats (move and sit seat wedges, therapy ball seats, etc.), vibration back pads, bouncy bands for their legs to bounce on while seated and inclined desks are becoming more acceptable! Taking movement breaks such as using Brain Gym for Classroom or Go Noodle resources can make a huge difference for many children and teachers.
Get moving and get the blood and oxygen flowing to the brain= better learners and less stressed students and teachers!