Home
> Handwriting Helpers
Handwriting Helpers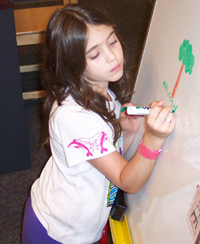 What's The Best Product For Handwriting Development?
Teachers are often perplexed when a crawling tunnel is recommended as an answer. It's natural to think that handwriting starts with the hands because handwriting requires power (or stability) and precision in the hands. BUT it all starts when we are on our hands and knees creeping as an infant. Crawling develops power in the shoulders, arms, wrists and hands. As this occurs, a child's grasp will mature and more precise movement can happen.
Children with processing issues frequently will not have endurance for writing tasks. When he/she complain of fatigue, it is because he/she is working 9 times as hard as a child with good stability throughout their body.
In addition, sensory aspects may interfere with the task. The child may not have good touch discrimination and press very hard on the paper for feedback because they can't "feel" it. He/she could also have difficulty sensing the formation of a circle or letter and have to rely heavily on vision to make small movements. There is so much that goes into good handwriting that an OT evaluation is necessary to determine the specific areas that the child is delayed in.
A good way to teach Handwriting is the Handwriting Without Tears program combined with a lot of movement!