Home
> Rising Above Ministries
Rising Above Ministries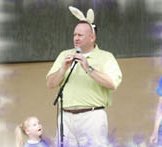 About Rising Above Ministries of the Cumberlands
Our Belief:We believe there are no disabled souls in the kingdom of God. All people despite any physical, mental, or developmental disability or handicap are created by God for a powerful purpose and destiny. Every one of us was created to reflect God's glory and to fulfill his specific plan and calling. We believe this applies to all humankind the disabled, the physically or mentally challenged, the young, the aged, those like us and those not like us from the moment of conception to the death of our earthly bodies.
Our Mission:
Our mission statement is taken from 2 Corinthians 5:14-17 (The Message):
"Our firm decision is to work from this focused center: One man died for everyone. That puts us all in the same boat. He included everyone in his death so that everyone could also be included in his life, a resurrection life, a far better life than people ever lived on their own. Because of this decision we don't evaluate people by what they have or how they look. We looked at the Messiah that way once and got it wrong. Now we look inside and see that anyone united with the Messiah gets a fresh start, is created new. The old life is gone: a new life burgeons!"
Our Organization:
Rising Above Ministries of the Cumberlands is chartered in the state of Tennessee as a non-profit organization. We operate as a 501(c)(3) charitable organization under the leadership of our board of directors. Rising Above is an all-volunteer, non-denominational ministry with no paid staff or employees.
Visit Rising Above Ministries at: