Home
> Rising Above Ministries
Rising Above Ministries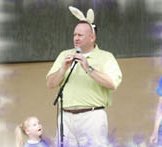 About Rising Above Ministries of the Cumberlands:
Our Belief: We believe there are no disabled souls in the kingdom of God. All people despite any physical, mental, or developmental disability or handicap are created by God for a powerful purpose and destiny.
Every one of us was created to reflect God's glory and to fulfill his specific plan and calling. We believe this applies to all humankind-the disabled, the physically or mentally challenged, the young, the aged, those like us and those not like us, from the moment of conception to the death of our earthly bodies.
Our Organization:
Rising Above Ministries of the Cumberlands is chartered in the state of Tennessee as a non-profit organization. We operate as a 501(c)(3) charitable organization under the leadership of our board of directors.
Visit Rising Above Ministries at: www.risingaboveministries.org
Find them and like them on facebook for weekly events for the special needs community including special needs dinner and dance called the Hereo's Ball that was started by Heidi Clopton! There are support groups, online special needs bible studies, special events, and books!