Fine Motor and Eye Hand Coordination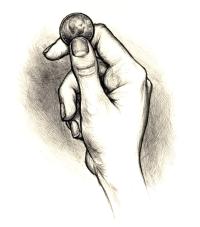 Activities that work on fine motor and eye hand coordination:
* See how many coins you can store in your palm while moving one at a time to place into a slot cut on top of a plastic container like a frosting can. Use only one hand! You should be able to do 6 in 10 seconds for ages above 6yrs!
*Find the hidden objects in the firm putty like Theraputty found on Amazon, or hide objects in modeling clay.
*Use clothespins, chip clips or magnetic clips to pick up small plastic toys and release into a container.
* Bubble tongs are awesome to improve the web space and help a child have better grasp patterns.
*Have your child "cut up" the junk mail.
This motion is strengthening your "web space" between your thumb and fingers. This space has to be strong to write and cut well!
*Wheelbarrow walk, creep through tunnels and play with weighted medicine balls often to help strengthen the entire core, upper body and upper extremities for more stability for fine motor tasks.