Pencil Grasp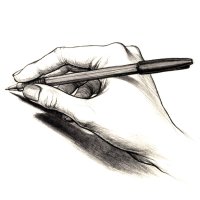 Does your grasp on a pencil look like this?
Did you know that there is a correct way to hold a pencil? It may not look like this picture either!
An OT can help children improve their handwriting and help strengthen the muscles needed for good writing.
Good handwriting starts with good core strength. If a child has weak ab muscles then sitting for long periods of time can be very tiring. This is why children fidget, lean, loose visual focus and attention in classrooms sometimes.
There are a lot of skills that are required to write well and have good handwriting! You are working hard just to sit and write!